In this guide you will go from beginner to a well informed NuOp Member. This post will also go a little deeper then normal into all of the important aspects of NuOp. This is to help you get a full understanding of everything NuOp can do for you.


Video guides and images will be provided to keep things easy to follow.
Build Your Profile.

Building your profile
is arguably one of the most important steps you should take when getting started on NuOp. In particular your publicly viewable profile. This is what other Members on NuOp will see first when encountering you. First impressions are important so you want to make sure your profile is in top notch shape.
Video Walkthrough:


For a full granular break down on every section on your public profile and how to fill it out,
this article should help
.
Updating Your NuOp Handle

Making sure your handle is correct is important. If you share your handle AKA your "share link" you want to make sure they actually make it to your profile.
Opportunity Introduction

NuOp and Opportunities go hand in hand, it's even in the name! Understanding what opportunities, most commonly known as "Ops", you can create and what makes them different is important. Feel free to click on the links below to explore the various types separately.

There are a few main types of Ops:

Other types of Ops:

Lets go over the main type of Ops first.

1. Open Op: This Op type is the most popular on NuOp and it comes with a few really powerful benefits:
- More visibility and publicity (shows up on Op List)
- NuOp markets your Op for you on social media platforms.
2. Direct Op: This Op type is the direct opposite of Open. In this case you already have someone in mind and do not want everyone else on NuOp to see it. Using the Direct method allows you to send your Op directly to the person you have in mind.


Note: If this person is not a member of NuOp, you are able to add them as a contact when creating your Op and invite them.

3. First Come First Serve Op: Finally, this Op type works as a blend of the last two. You don't want your op to be fully open but you also have more then one person in mind. Using this method you can select up to 5 members for your Op and the first one that claims it gets it.

4. Jobs: As the name implies you can also create jobs on NuOp. This option is perfect if you have something more long term in mind.

Other Op Types
:
1. Open Recommendation: Recommendations are a bit different, but just as powerful. They allow you to ask the NuOp community for recommendations on a service provider.
You are saying to everyone, "Hey, I'm looking for a painter. I need some recommendations".
2. Direct Recommendation: A Direct recommendation is when you want to make a recommendation to someone you know. Think of it like a Direct Op. You know exactly who you want to send this to.


Recommend An Open Op:

Outside of the methods listed above, you are able to recommend someone from your network to a Open Op. This allows you to stand out more on NuOp since the Creator will be informed about the person you recommended and that you helped out.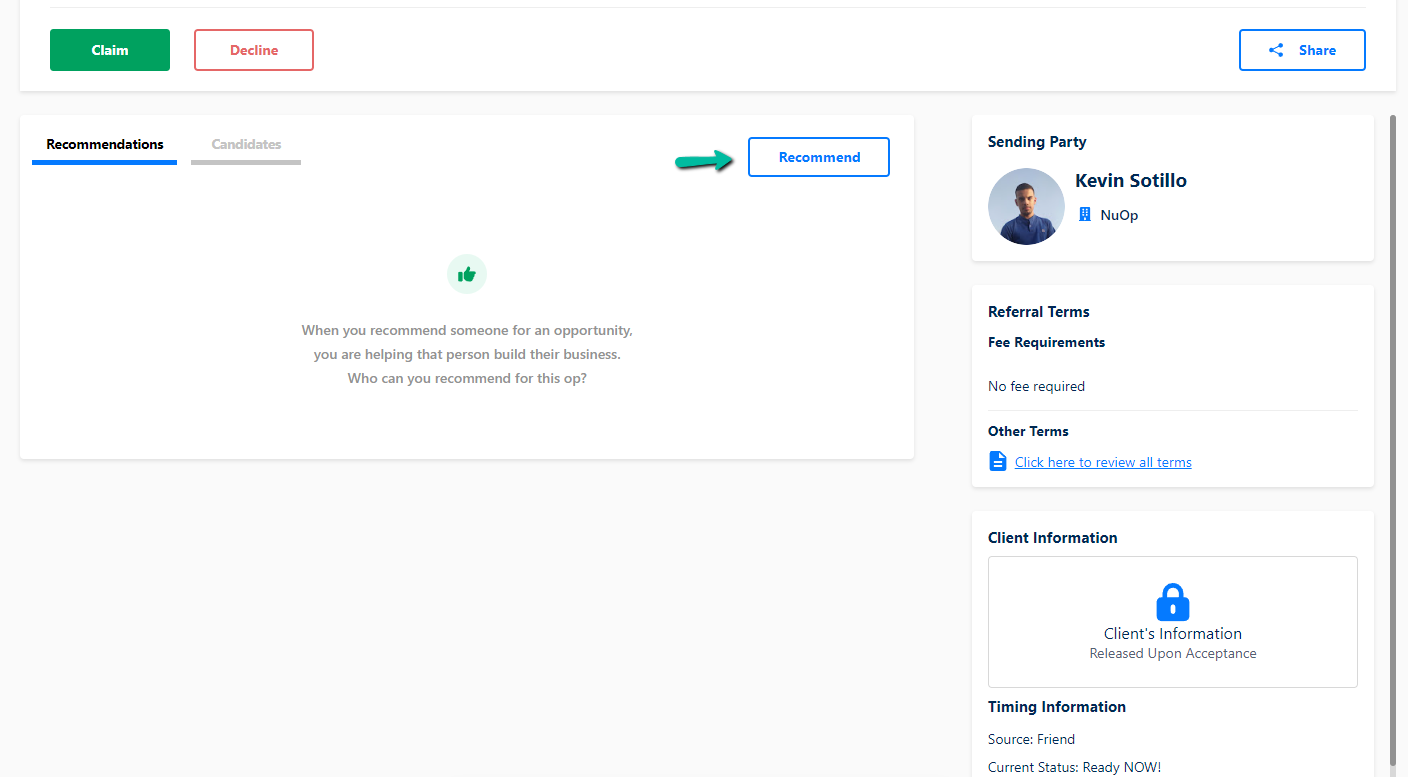 Click here to read more about both types of Recommendations
3. Past Ops: When you get to NuOp its very likely that you have a lot of past business. This is where Past Ops come in, allowing you to track everything accurately so you don't lose any important data.

Check out this video guide to see exactly how to create a Past Op.
Invite Your Network

The "
My Network
" feature is a very important feature for you to use as a new member. Why? This is where you will invite, track, and adjust your network.

Inside "My Network"

Below are things you will see in "My Network".
Contacts: These are people you either imported from your contacts. Or created manually using the "Create Contact" button.

Connections
: These are people that you connected with on NuOp. Whether that be from a past Op, or simply by adding them via their profile. Everyone you make a connection with will be in this tab.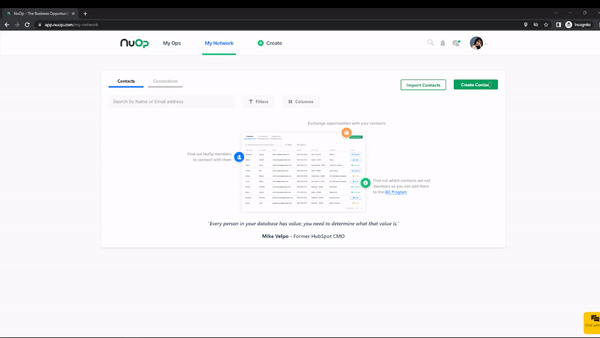 Importing Contacts: This is the fastest way to import your contacts. This makes it really easy to add your already existing network to NuOp which then you can invite individually.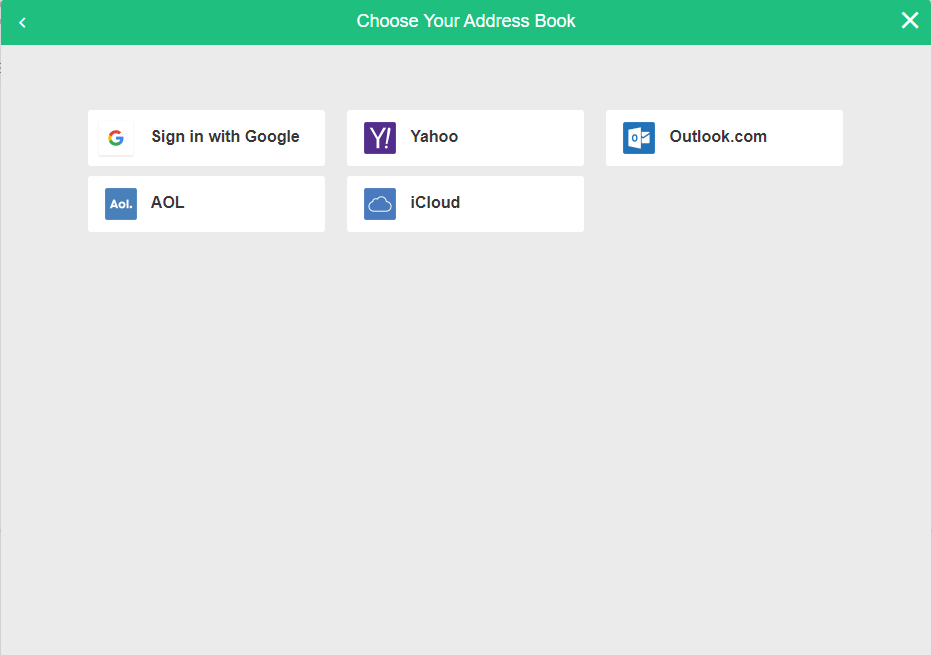 Final Note On "My Network"

This feature is all about your data. So of course there can be a lot you are looking at. You have the ability to change up how this data is presented as well so it fits what you find most important. Follow the link below to get a deeper look into this feature and the various options at you disposal.

Finally please note that
filter options are different for Contacts and Connections
. As both sections hold new and different kinds of information. Once again, if you want a full overview of each type of filer option check out the specific "My Network" article,
Introducing - My Network
.
My Ops

While "My Network" was all about your contacts, connections, inviting, and connecting, "My Ops" is all about your opportunities and your Op Data. Op Data is a new data type that will change how you look at your business.

Once again you will be presented with various bits of information. It is very similar to "My Network" so we will not break it all down again. But if you would like to see such a breakdown, the article, "
What Is My Ops
" will be of great use.
What Are Drafts?

Drafts is something unique to "My Ops". Sometimes you do not want your Op to be posted right away or you have to come back to it later with new information, this is where drafts come in handy.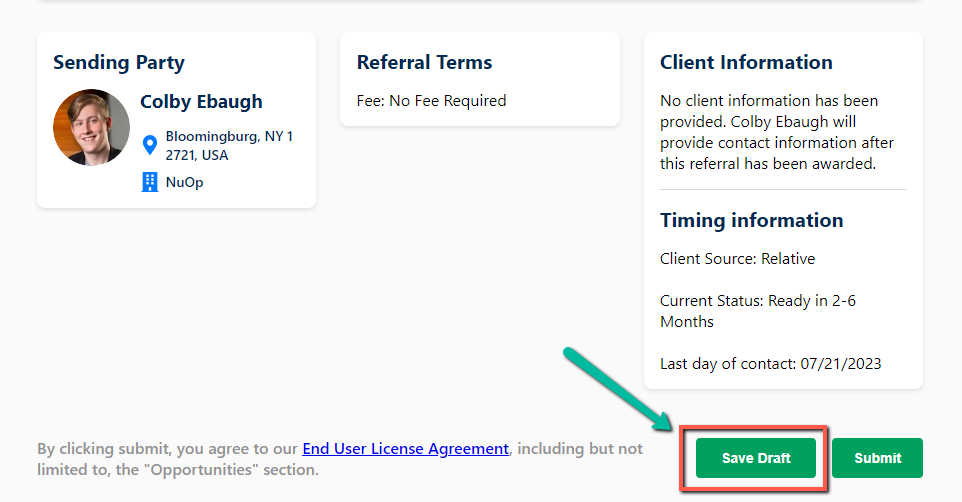 Video Walkthrough:

Op Data

Founder and CEO of NuOp Geoffrey Green, describes the power of Op Data perfectly in this short video.

NuOp makes it so you never lose track of your Op data again.
Gratitude and Endorsements

Gratitude and Endorsements are an important part of NuOp as well as in your professional journey. People like to be endorsed. It motivates them and makes them more likely to do more business with you, so it is important to be able to give these sort of recognitions.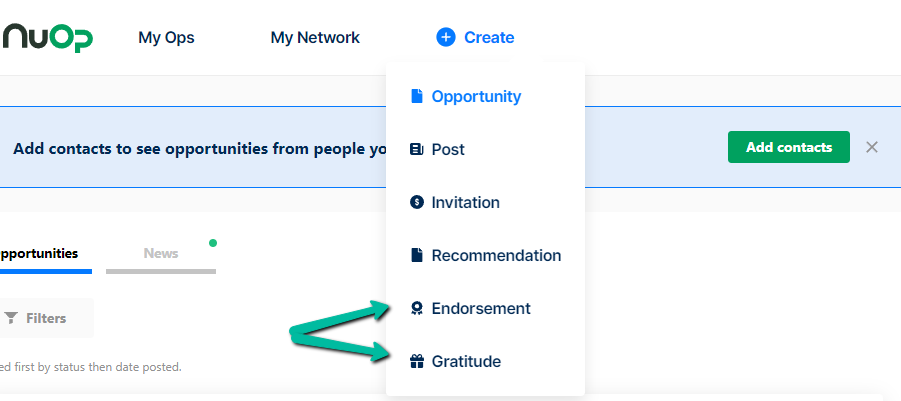 Note: The information required to fill out is slightly different depending on if you choose Gratitude or Endorsements as Gratitude has an extra field.
PS: All created and received Gratitude and Endorsements are stored on both your profile as well as the other Member's. This means over time you will grow a history of Gratitude and Endorsements, it is a good idea to give your business partner on NuOp one of these messages!


Click here
to learn how to create a Gratitude or Endorsement step by step, or watch the video below.
Gratitude and Endorsements Short Video Tutorial:
Opportunity Reviews

Opportunity Reviews serve as a means to validate opportunities and assess the services offered by both involved parties. Here is an example to think about; Judy sends Kim an Op and the client is horrible and Judy did not do well at keeping in touch. Eventually Kim finishes the Op and leaves a review reflective of that experience. On the flip side however, Emmet sends Laura an Op and it goes really well, Emmet's review reflects this. Now you are looking at both of these reviews at once, which one are you more likely to pick?


If you have good reviews its likely you will get more business.
Op comments are a great way for you to stay in touch with your business partners. You want to know how the valuable business you gave is going right?


Click here
to learn exactly how to leave Op Comments.
News Feed

The NuOp community news feed is a great place to learn about what other members are talking about. This is also another way for you to meet other members on NuOp and make more connections, passively growing your network and sphere of influence.

Conclusion, For now....

NuOp is always growing and getting better every day. The NuOp Quick Start will always be updated with guides to the newest features to make sure you have what you need to be a NuOp Pro. If you have not signed up yet,
click here to get started for free
! The best part is, your Essential membership will remain free for life.