With the new profile out, the way to build your profile has changed drastically. In this article we will go over how to build your profile effectively.

Personal Information

The personal information tab has remained mostly unchanged, but we will still go over it now.

1. Once logged into your account and can see the main Op list. Click your profile image on the top right to access the drop down menu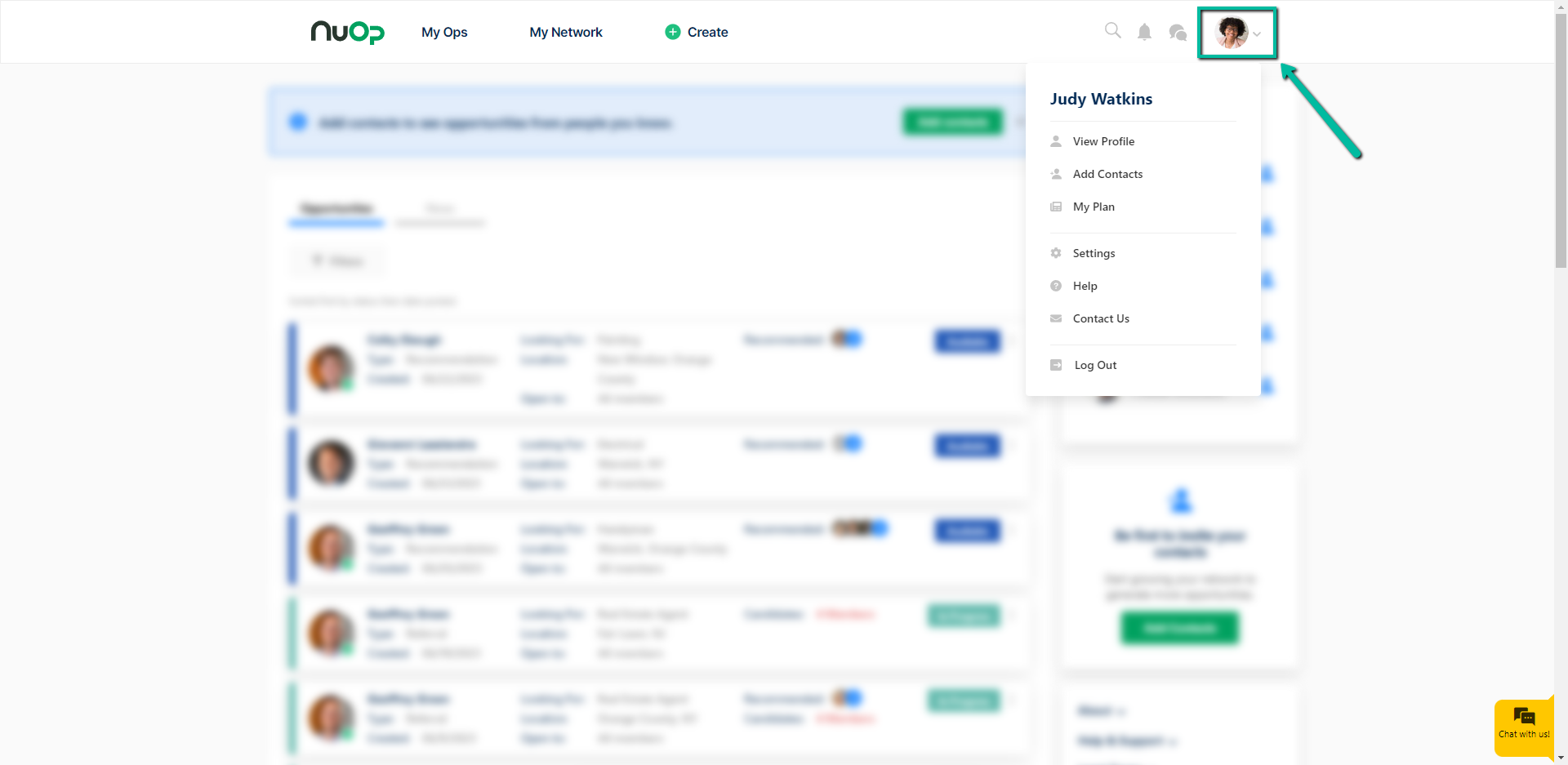 2. Hit the 'Settings' option. This will take you directly to your personal information. Where you will be presented with various fields to fill out, or update. Anything with an * (asterisk) is a required field.

- First Name
- Primary Profession (What you are mostly known for. Your main profession.)

- Company
- Address*

- Headline (Example: "
Real Estate Professional with the Expertise Needed for an Outstanding Experience")
You can also change your profile Image in this section if you like. This is also possible on your actual profile page. Which is what other NuOp Members see.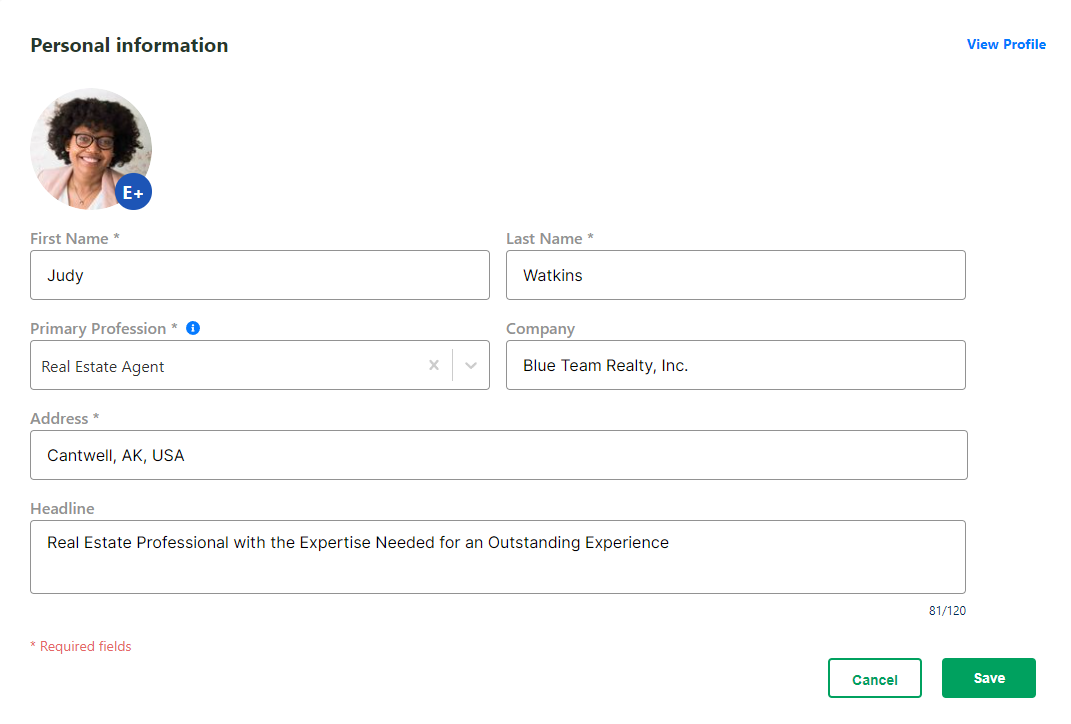 Security & Sign In

Here you can change who can see your email and mobile phone number. As well as if you need to update your password. Upon account creation this field will also tell you if you need to verify your email and phone, which is required with every new account.

Social

Finally, in the
social
section you can add your social media profiles. We have articles on how to find this information for each social media platform;
Twitter
,
Instagram
,
LinkedIn
,
Facebook
/(Meta). You can also link to your own website.


How To Build Your Public Profile

The public profile of all NuOp Members has recently gotten a makeover. In this section we will go over these new additions and how to fill them out. Note that for each of these sections you much either hit the pen or the + in order to edit this information.

1. About You: simply fill out what you want other Members to know about you.

2. Profession: Add the business professions you are most likely to exchange opportunities with. If you are a real estate agent, it is likely this is your primary profession. this will match what you wrote in your personal information.

3. Good Ops For Me: Here you can create tags that help other Members understand what type of business you are seeking. Make sure to hit the + to be able to add your custom tags and hit save in order for the to apply!


4. Experience: Add your experience in this section. It will then apply in a timeline format to show your journey.

5. Endorsements & Gratitude: Here you can express gratitude or endorsements to other Members which will appear on both profiles. Learn more about them
here
.
6. Licenses and Certifications: add received documents here so other members can see your qualifications.

7. Honors and Awards: Add your received awards and honors.

8. My Local Community Involvement: Show others how involved you were in your local community in the past. Show supported organizations and more.

9. My Favorite Members: When you view other Members' profiles you will see a small heart icon. Simply click this icon and they will be added to your favorite members section.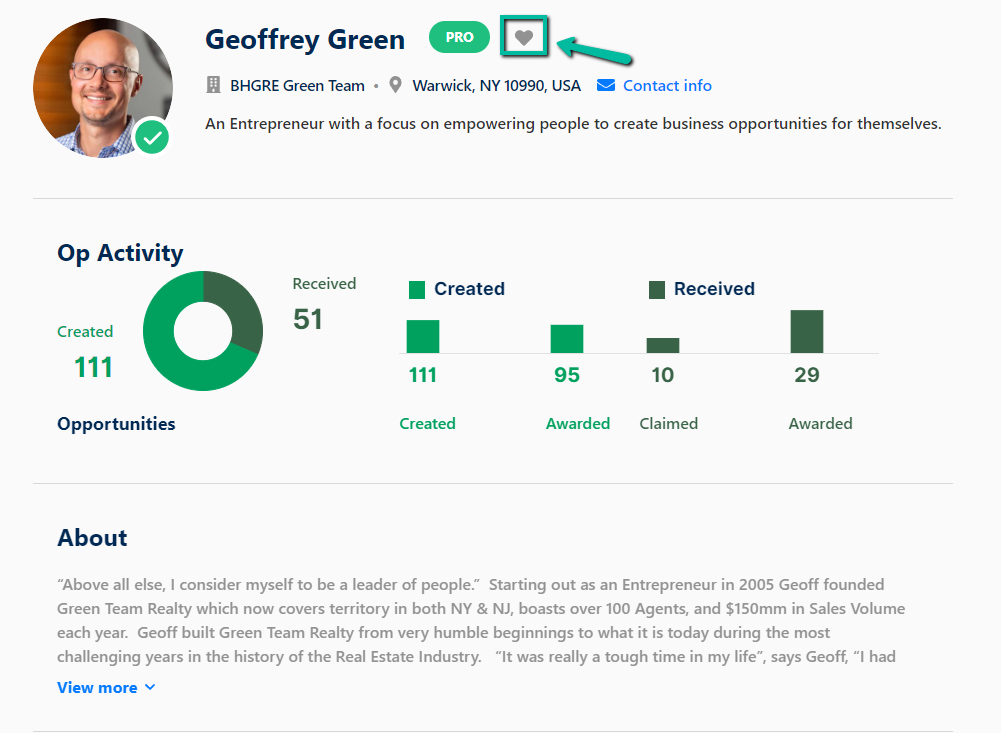 Walkthrough Video