How to change your NuOp Unique Share Link or "Handle"
Once you created your NuOp profile you may want to change your username to something more special and unique to yourself. Following the simple steps below, you should be set in no time.
Login to your NuOp profile.



Once you have logged into your account. Select your profile image.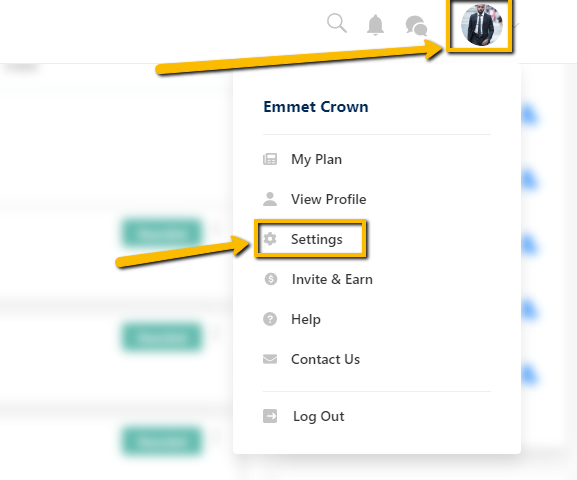 You will see the following drop-down menu. Select Settings from the menu.
Once in the settings screen, you will see all of your account information. Scroll down until you see this section: From here you can edit your unique share handle and link. Go to the highlighted area and make your desired changes. Don't forget to click Save after making changes.
Why Does This Matter To You?



Now that you know how to change your handle here are some more things to keep in mind. For one you can encourage other people to join NuOp through this share link, but why does this matter exactly? Well the more people you invite the more you will earn off them as they engage with the platform! That's right, through this handle and our Invite & Earn program you can bring in some profit! Also the more people that are on NuOp the better it is for everyone. This is because more people means more referrals which leads to more growth! Also like just mentioned if you have a lot of people invite and if each of them use the platform you get profit just from that.







Related Articles

NuOp's Different Membership Levels

Here at NuOp, we understand that not everyone will have the same business needs from our platform. For this reason, we provide three (3) unique membership levels. NuOp's Different Membership Levels Essential Membership Our Essential Membership is our ...

How to install NuOp to your mobile device

NuOp is available for it's members to use on their iOS and/or Android device. Here are the best ways to install the NuOp app to your mobile device: iOS Please follow the steps to put the app onto your home screen. Steps: 1. Open up Safari. (Only ...

Does NuOp create legally binding referral agreements when Members exchange referrals?

A legally binding referral agreement is only created automatically through NuOp when all of the following criteria are met: Members with the profession type "Real Estate Sales" exchange a referral with one another. The client's contact information ...

Upgrading or Changing your Membership Plan

This article will help you understand how to upgrade or downgrade your NuOp membership plan. Let's get started. Upgrading your Membership Plan: 1. First login to your account. Once you are logged into the platform, you want to click your profile ...

Finding Your Twitter Username or Handle

When setting up your profile, you will be able to add links to your Social Network accounts. Here is some instruction on where to find your Twitter Username: Desktop or laptop view 1- Go to Twitter.com and log in to your account. 2- Once ...