Invite & Earn - Why It Should Matter To You
What Is Invite & Earn?

Invite and earn is the NuOp program that rewards you for taking part in inviting your network or others you think would enjoy the site. For each person that you invite using your unique share handle, and the more that actually use the site for their referrals, you get a percentage from their referral fee. It is important to note, the Members you invite must upgrade to the Pro plan for you to start receiving the 10% of all money earned by them. This means you get free profit from just sending out invites to your network. And not only does this help you and the people you invite, it also helps the NuOp community as a whole. More people using the platform means more referrals and more chances of growth for everyone!

There is no time limit either, so if you get someone to join and they stay on the essential plan for a year or two then upgrade to Pro, at that moment you will start to earn your percentage.




Well that's up to you! There is no rule on who you can't invite, and NuOp is a great tool for any business professional that may be looking to refer or collect referrals. The world we live in is experiencing a jump in referral based opportunities and referral focused industries. If you stay ahead of the game you could be looking at a mass amount of business in the future, and this means lots of people are looking for places like NuOp. If you show them a hand they will remember that, and what goes around comes around!

How Do I Start?

Want to get started? Awesome! Here is how you can get going:

1. Navigate to your drop down after signing in and click the Invite & Earn tab.




2. Set up your account and fill out credit card info.

Why do we ask for credit card info? We will never charge you unless you pay for an upgrade, this information is so money from the invite & earn program can be deposited into your bank account. And you are going to want your NuOp profile finished as well. See article
"Building Your Profile"
if you need help.

3. Start sharing your link!

After setting up this info all you have to do now is send out your invite link. You can pick between inviting via social media or by email. And note if you send by email, it is guaranteed to
not
be placed into spam. Meaning you can rest easy knowing that your invites are sitting in the main inbox of everyone you send them to. And if you decide to share your link over social media all it takes is the press of a button. Lastly if you just wanted to paste your link wherever you go, there is an option for that as well. All you have to do is hit copy!
PS: If you want to find out how to change your share handle, make sure to check this
article out.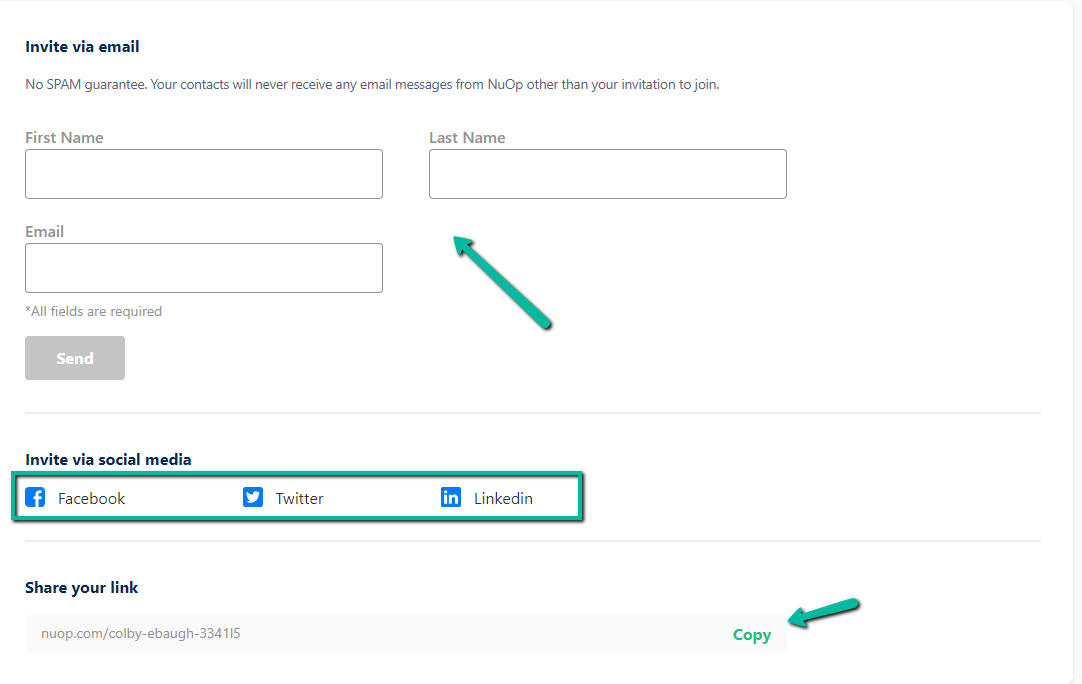 Then you should be all set to go! It's as simple as that.
Conclusion
And that's all you need to know about Invite & Earn as well as how to get started. This is a great program for everyone to take part in, and as mentioned at the start, as more people start using NuOp the better it is for everyone. We all make so much value from the referrals we create and most times we never know how much money we are actually creating not only for ourselves but for the people and businesses the referrals help. With NuOp this is finally quantified and has a visible number to it. Invite & Earn is one example of this process working.
People should be rewarded for their referrals, not forgotten.
So with that said, why not start inviting and watch your efforts not only bring you money but also help the platform you love grow and blossom into what we know it can be. And if you are not already, make sure you
sign up for free today.
Related Articles

Invite & Earn - Check Your Stats

Our invite & earn module provides you with a few key bits of information to track your progress. The mobile display is shown here: Each section below corresponds to an item listed in the image above. Email Invites Sent: We provide you with an easy ...

Why do I need to enter my debit card information to setup Invite and Earn?

In order for NuOp to deposit money that you have earned from our Invite and Earn program, Stripe needs to verify your bank account. No charges will be made as a result of your debit card entry. Stripe is a software company that offers payment ...

Setup your account so that you can be paid from the invite & earn program

Our invite & earn program gives all of our Members a chance to earn money for inviting their referral partners to join NuOp. In order to actually get paid each Member must enter in the details of their debit card account. Once the Member's debit ...

Introducing - My Network

Recently we added a great new tool to NuOp called "My Ops" which was a huge step for every Member towards the future we see for NuOp. With the addition of that feature you are now able to track all your past referrals in one neat place. And are able ...

What Are Op Codes?

During your time on NuOp you may have seen something like this https://open.nuop.com/J6OGTS. Have you ever wondered what the deal is with this code? Well they have a lot more use then you think. They are NuOp "Op" codes and they are one of the many ...