How To Post To The Community News Feed
NuOp's news feed is a place where business professionals
can post updates and other bits of information relating to their field. Let's go over how you would go about viewing and creating a post.

You must have a Pro membership in order to post on the news feed.
How To View The News Feed:
1. Navigate to the news feed.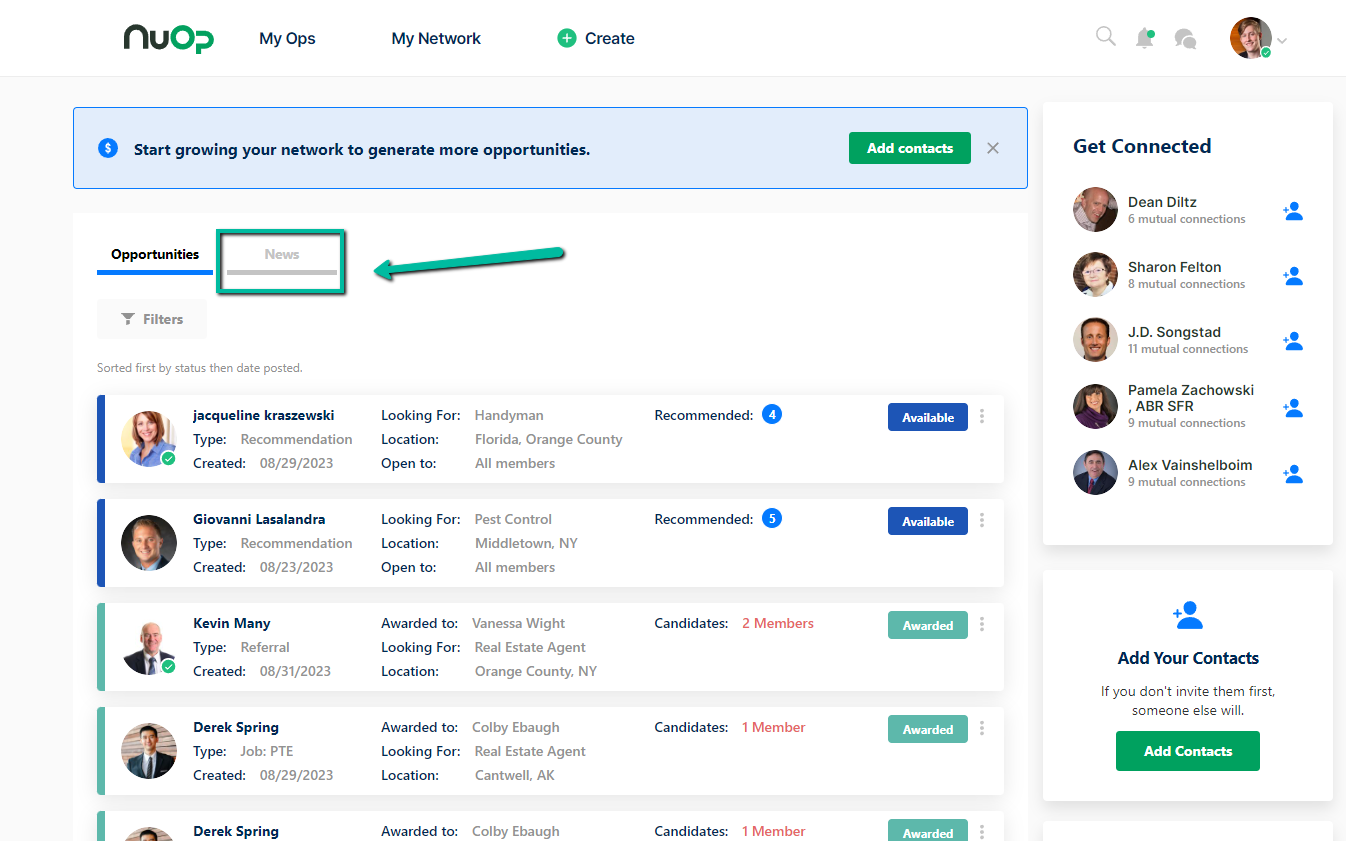 If you do not have access due to your membership level you will be prompted with an alert.
How To Create A Post:

1. On desktop click the + create icon located on the navigation bar. On mobile tap the + create icon located on the bottom right of your screen. Then selected "Post" from the menu selections.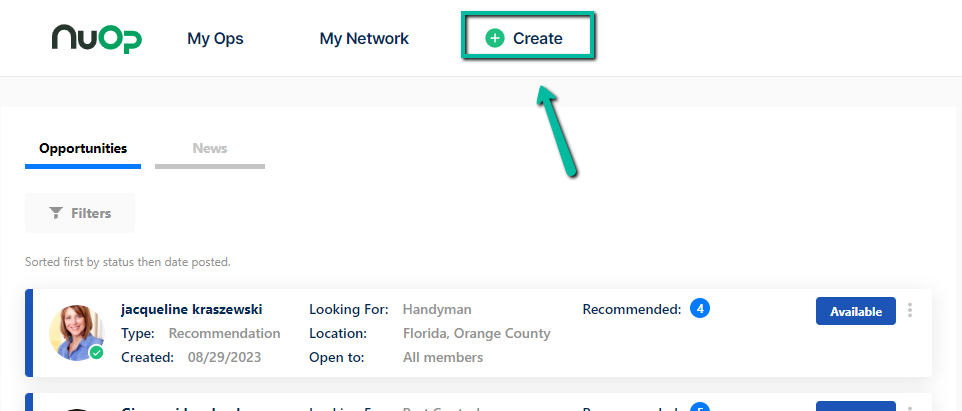 News posts are a great way to engage with the community and grow your network by leaving comments and conversing.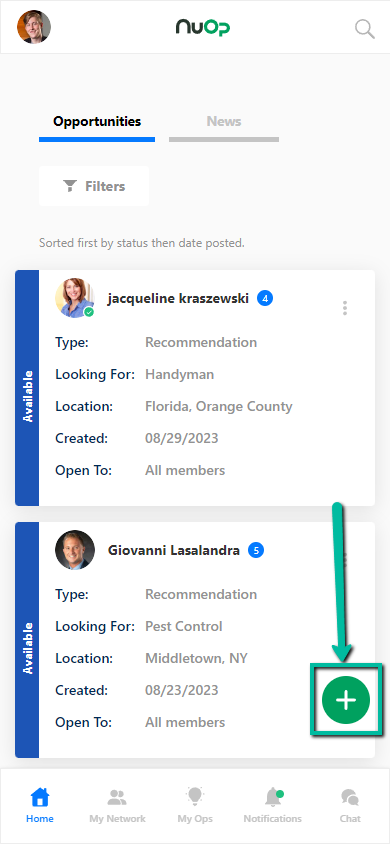 2. You will be presented with the post creation screen. Here all you have to do is fill out: your post's title, your post's details, you may add images to your post as well by click/tapping in the add image field, you can finally add hashtags to separate your post from the rest. On mobile this will looks very similar.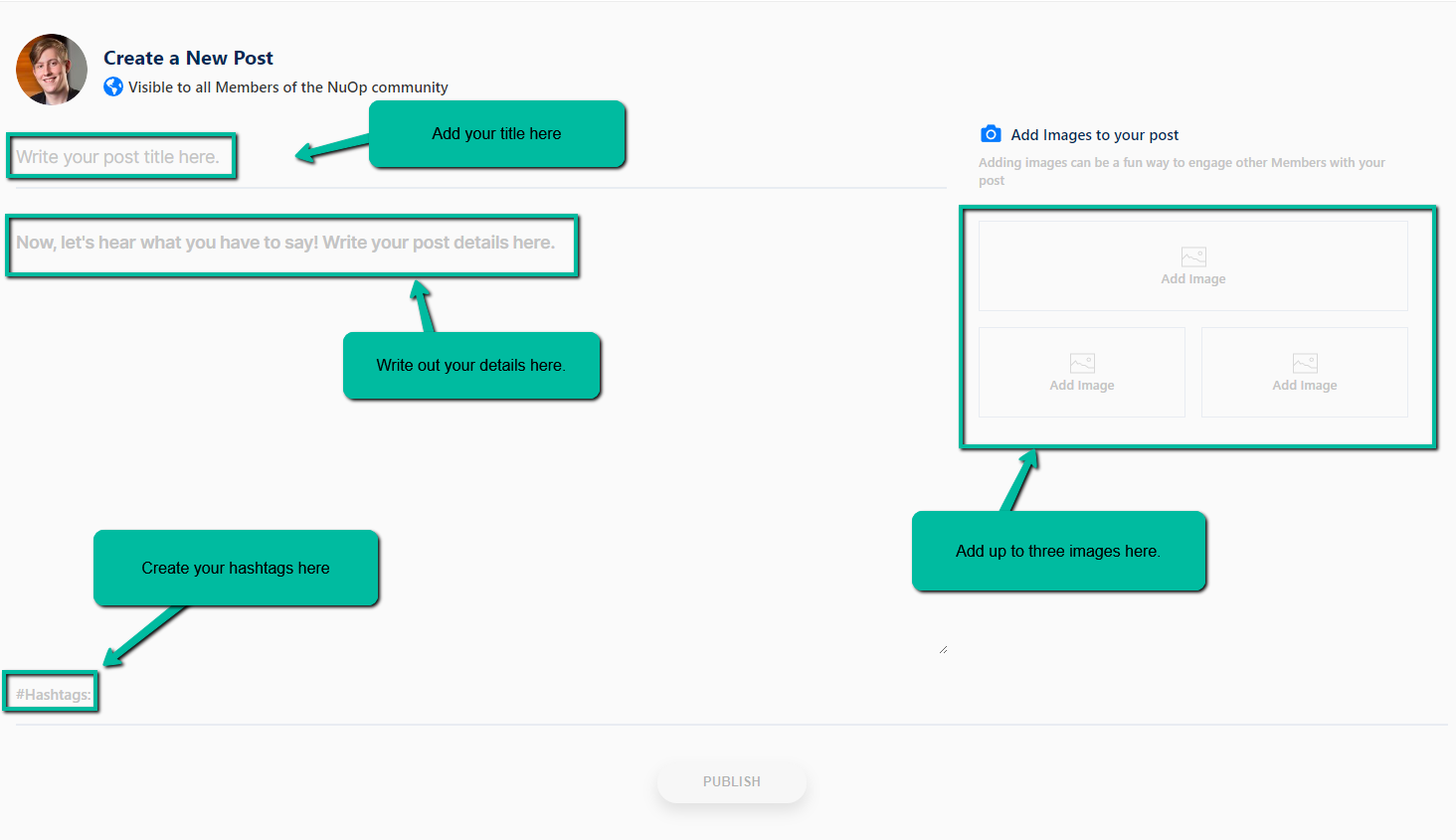 Make sure to hit publish once your finished.
Once you submit your post it will appear on the news feed for the NuOp community to check out. From there they can also leave comments and like as well. Happy posting!

Related Articles

How to unsubscribe from community post notifications?

In order to unsubscribe from community post notifications. Just scroll to the bottom of the email in which you received the community post notification and click on the unsubscribe link. Don't worry, you will still be able to receive referrals and ...

How can I report an inappropriate post?

We take the quality and authenticity of our users content seriously. We encourage all users to manage their own networks within NuOp and to report anything that is inappropriate or goes against our policies. As of right now this feature is only ...

NuOp Quick Start

In this guide you will go from beginner to a well informed NuOp Member. This post will also go a little deeper then normal into all of the important aspects of NuOp. This is to help you get a full understanding of everything NuOp can do for you. ...

Opportunity Reviews

Opportunity reviews are yet another way for you to share your appreciation for other Members as well quality check their Ops. In this post we will go over how to create a Opportunity Review and how to view reviews you have given and received. Video ...

Claiming an Open Opportunity

Claiming an Open Opportunity An Open Opportunity is an opportunity exchange method that a NuOp member can use when they do not know who to send their opportunity (referral) to. In other words, if a NuOp Member has a client referral and needs help to ...